Compare Personal Loan Rates in Singapore
A personal loan is money you borrow from a bank, online lender or any other financial institution in Singapore. This personal loan is then paid back in set monthly payments, otherwise known as instalments. The payment duration for monthly personal loans is typically between two to five years and the interest rates on these loans can be between 6% and as high as 36% APR in Singapore. Unlike other traditional loans which are backed by collateral, a personal loan is usually unsecured.
H2 What Are Unsecured Loans?
Unsecured debt loans generally refer to loans issued and supported only by the borrower's creditworthiness, without any collateral backing. Singapore's financial lenders make their decision to lend based on a variety of factors including debt-to-income ratio, credit score and credit report. Although there are risky direct lenders in Singapore who take a gamble on you even if you do not meet the criteria for an unsecured personal or business loan (for instance, having a bad credit score), others opt to give you a secured or cosigned personal loan instead.
When taking out a personal loan, it is always best to consult different lenders and compare their rates before settling on an offer. Loans with lower Annual Percentage Rate (APR) are the least expensive, so be sure to make a comparison between lenders across Singapore and take the lowest you can get.
Getting A Personal Loan with the Lowest Interest in Singapore
In Singapore, if you are in need of money but do not want to borrow from your family and friends due to the complications that may arise, you will usually have to scour for the cheapest personal loan available. As the financial hub of Southeast Asia, there are numerous money lenders available for you to choose from. This freedom of choice is a blessing because you can keep searching until you find a lender with low interest, among other terms that are comfortable for you.
Generally, there are two types of unsecured and secured personal loans, term Loans and revolving loans. For borrowers looking for a fixed repayment period, a term loan is the best option. Unlike revolving loans, term loans are much more fixed, enabling you to return the money through a fixed monthly instalment plan. You will be charged a processing fee if you are taking out this personal loan in Singapore.
Revolving loans, which are also referred to as personal lines of credit, can be used anytime like a credit card until your limit is reached. This level of flexibility comes with higher interest rates (3-5 times higher than term loans). You would usually be required to make a monthly minimum payment of $50 or 2.5% of your loan.
As with all other countries, there are certain laws that guide secured and unsecured loans in Singapore. These laws are in place to protect both you and the lender. In the next section, we would cover some guidelines on the qualifications needed to obtain or qualify for a personal loan so that you can make a more informed comparison. Some of these requirements include having a minimum yearly income and paying processing fees or annual interest on the loan.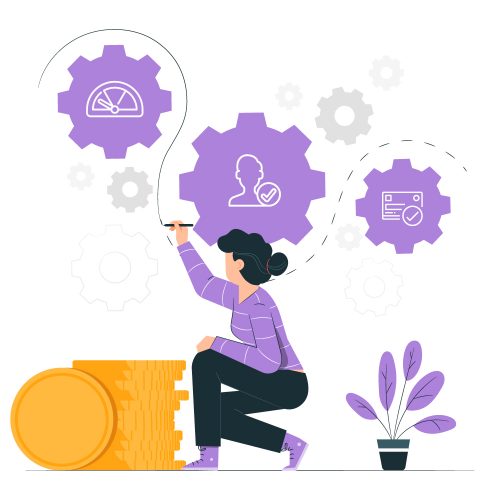 What Do You Need For A Personal LoanIn SG?
There are no restrictions as to how you can spend the money you obtain from a secured or unsecured personal loan. You can use the loan for emergencies such as a surgery or pay for a vacation abroad. Personal loans are one of the best ways to boost your spending power in the short term. Here are some of the criteria necessary for you to know if you intend to take out a personal loan in Singapore:
You are allowed to borrow as much as 6× your income up to $200,000. The actual amount you can borrow varies depending on your credit records and other available credit facilities.
Permanent residents, foreigners and Singaporean citizens are allowed to apply for a personal loan although the individual requirements If your yearly income is below $20,000, you are not eligible for a personal loan.
Singaporean citizens and permanent residents are required to be earning at least $20,000 per year. In comparison, foreigners are expected to earn as much as $40,000 per annum to qualify for a loan. The higher your yearly salary is, the lower the interest on the loan.
Personal loans usually last between 1 and 7 years, although it is not advisable to take out a long term personal loan. The longer it takes to pay your personal loan, the more interest you pay on it. Endeavour to use personal loans to cover short term expenses.
The required documents vary depending on the party requesting the loan. Foreigners are requested to bring a valid passport and their employment pass with at least six months validity while Singaporeans and Permanent residents are expected to bring a front and back photocopy of their NRIC, proof of income such as your most recent e-statement, and income tax notice of assessment. Make sure you have all the documents you need to apply for a loan so that your process is smooth.
Need Help? Consult Our Team
In life, emergencies can occur at any time and we may not always be financially buoyant when they happen. Taking a personal loan from the bank is always a viable option and you should compare around to get the best rates before signing any papers. If you are looking for secured and unsecured loans for small businesses, you can also compare the interest rates offered by the various business loan lenders here. Select the filter for short term business loans in Singapore. For more information, get in touch with our team.