In 2014, a businessman borrowed $350,000 from a licensed money lender at an annual interest rate of 240%. Although he managed to pay back twice the amount of the original loan, the man was taken to court by the licensed money lender for failing to pay the entire owed amount.
Fortunately, the case was thrown out by the court and the Ministry of Law has since ruled that the maximum interest rates money lenders can charge is 4% per month. The case also highlighted the fact that while you can have alternative options to borrowing from a bank or an illegal money lender, it isn't necessarily trouble-free.
When done correctly, borrowing from a licensed money lender could be a good solution to your cash flow woes. If it's your first time seeking a loan from one, here are some steps to follow: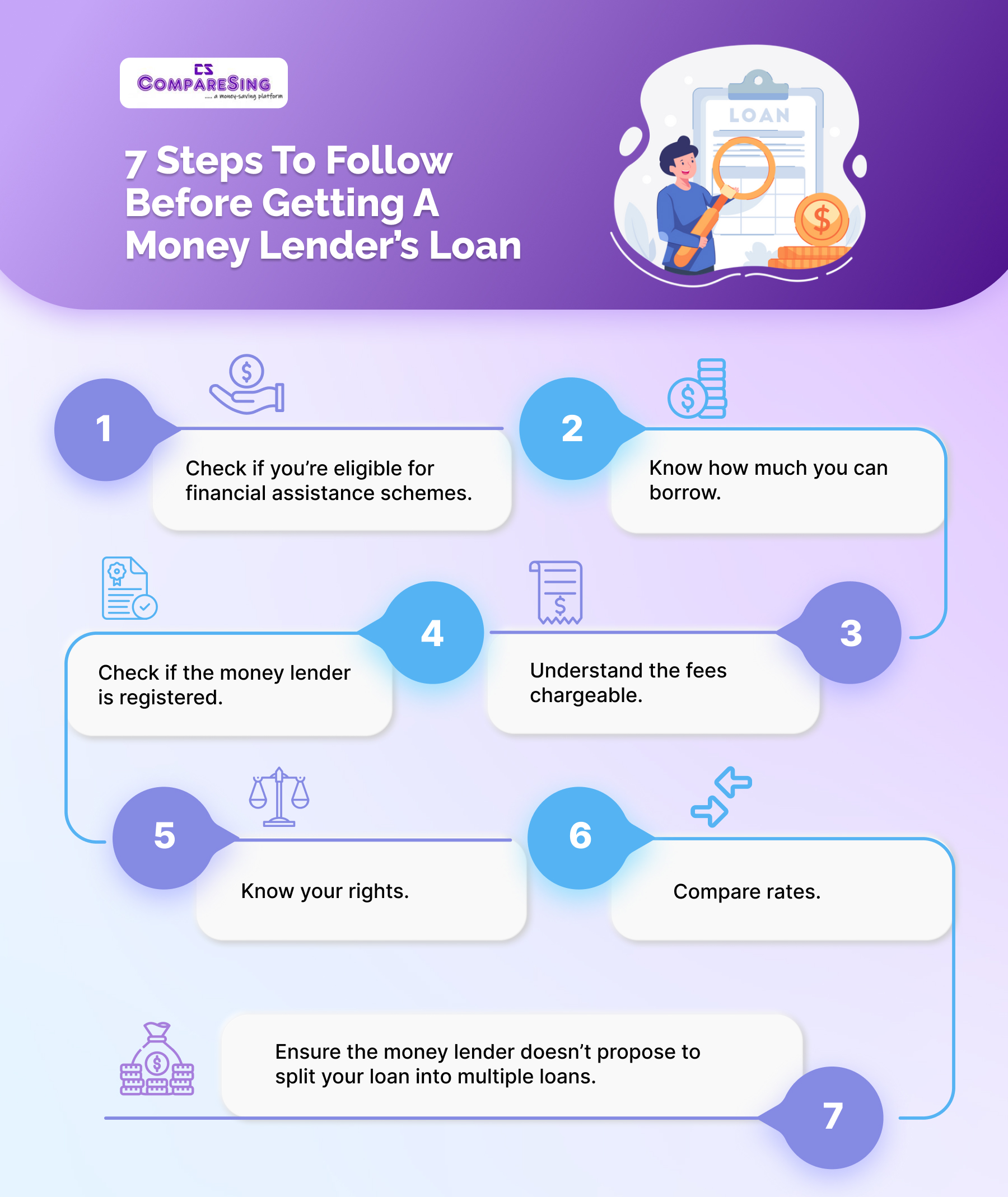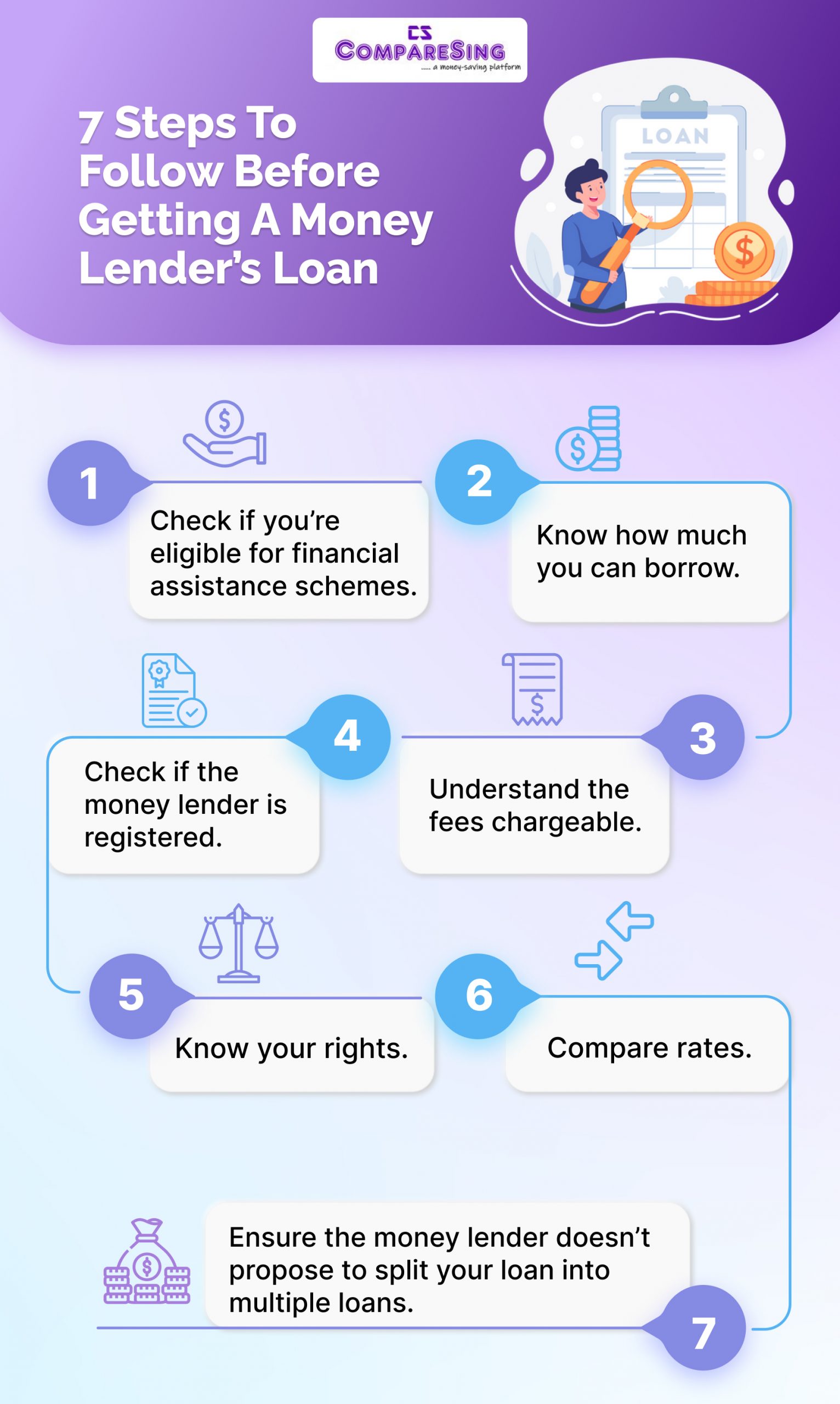 1. Check if you're eligible for financial assistance schemes
Apart from asking family and close friends for help to tide you through difficult times, you can try to get help via financial assistance schemes that various Government agencies offer. Reach out to them to learn more about what they can do to help people in need.
 2. Know how much you can borrow
When it comes to borrowing money, you should only borrow only what you need and can repay. Additionally, how much you can borrow is dependent on your income — whether you're taking an unsecured loan from a bank or licensed money lender.
For Singaporeans and PRs who earn at least $20,000 annually, licensed money lenders can let you borrow up to 6x your monthly income.
For those who earn below $20,000 annually, licensed money lenders can only let you borrow up to $3,000.
3. Understand the fees chargeable
When looking for a loan, many focus only on the interest rates they will be charged. Fees can also add up to form a significant part of your payment. The good news is that since licensed money lenders are regulated in Singapore, there are only certain types of fees they can charge, including the following:
a fee not exceeding $60 for each month of late repayment;
a fee not exceeding 10% of the principal of the loan when a loan is granted; and
legal costs ordered by the court for a successful claim by the money lender for the recovery of the loan.
The total charges imposed by a moneylender on any loan, including interest, late interest, administrative, and late fees cannot exceed an amount equivalent to the principal of the loan. To illustrate, if a borrower takes a loan of $10,000, his interest, administrative fee, monthly late fees, and late interest (where applicable) cannot exceed $10,000.
4. Check if the money lender is registered
Unsurprisingly, there are illegal money lenders that disguise themselves as "legal". The best way to check is to see if they are listed under the Ministry of Law's registered lenders. If they are not, it means that they are not regulated and can potentially bring some trouble and danger to you and your family if you borrow from them.
5. Know your rights
There are some actions licensed moneylenders should not do, so do file a complaint to the Registry of Moneylenders if a lender did any of these:
Ask for your Singpass and password
Threaten you or use any abusive language
Retain any of your personal identity documents
Make you sign an incomplete or blank note of the contract
Approve your loan without assessing your income tax assessment and payslips
Withhold any part of your principal loan amount
You may contact the Registry of Moneylenders at 1800-2255-529 or via the website.
6. Compare rates
Like how you would borrow from a bank, different money lenders offer different interest rates, so you may want to shop around to find out what the most competitive rates and terms are.
7. Ensure the money lender doesn't propose to split your loan into multiple loans
When you finally decide on the money lender that you'd like to take a loan from, you are required to visit their registered office address with all necessary documents for a face-to-face verification.
While you're at it, be sure to say 'no' if the money lender proposes to split your loan into multiple loans. This is unnecessary, unacceptable, and unfair altogether as you—the borrower—would then need to pay multiple times the administrative fees.
What's more, it's difficult to keep track of multiple loan repayment schedules. You wouldn't want to be liable for multiple late payment charges just because of the need to manage multiple smaller, split-up loans, right?
CompareSing gathers multiple loan quotes from the top licensed money lenders in Singapore. Use our free comparison platform to save time on finding the most suitable licensed money lender loan quote for you.